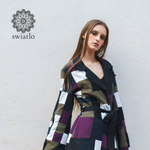 By Akshita Ahuja
If you're anything like me, the lockdown has you thinking more and more about the environment. Researching on ways in which one can help made me stumble upon the Slow Fashion Movement. What caught my attention about this movement is that it's a lifestyle choice that doesn't demand a lot from us. It's simply being conscious of what we buy.
What is Slow Fashion?
Slow Fashion focuses on the approach and awareness to fashion by the designers, buyers, producers and consumers. It focuses on the use of sustainable materials, ethical processes and fair trade. The Slow Fashion model opposes that of Fast Fashion which emerged circa 1990.
Simply speaking, slow fashion is an amalgamation of ethics and aesthetics.
The term 'Slow Fashion' was coined and popularized by Kate Fletcher (currently Director of www.slowfashion.org) after she recognized a need for a slower pace in the garment and clothing industry. 
When discussing Slow Fashion, three components come to play – ethical fashion, eco fashion and lasting fashion. Even though the three seem to be synonymous, the terms represent different niche paths towards a more sustainable fashion lifestyle. The more a garment or a brand comprises the values of the three elements, the closer it is considered to be a true embodiment of slow fashion.
Ethical Fashion talks about the fair treatment of animals and humans. It is concerned with respecting the labor employed to create the clothing by providing them with equal opportunities and fair pay. Ethical Fashion also focuses on supporting indigenous art and hiring local artisans for craft native to their areas. 
(Did You Know? – 1 out of every 6 people work in the Global Fashion Industry. The Garment Industry is the most labor dependent industry on Earth.)
Eco Fashion, on the other hand, is concerned with the impact of clothing production on the environment and drives focus towards ecological integrity of the market. It focuses on ecological manufacturing techniques as well as sustainable fabrics and raw materials. Second hand pieces and the vintage clothing market also play a pivotal role in this element of Slow Fashion.
Lasting Fashion deals with slowing down the clothing consumption rate. This element focuses on the garment itself by shining light on the quality and life of the product. Often when we look at the clothing industry model, there is a trade-off between quality and cost that determines our choice between slow and fast fashion. Lasting Fashion asks you to focus on the longevity and cost-per-wear of the cloth instead of the one-time cost.
Well now that you have an idea of what Slow Fashion is, you may ask why we need iṭ.
Why is there a need to shift to Slow Fashion?
With the clothing production doubling in the last 15 years, there is dire need to explore our clothing habits. Now, more than ever, it's time for us to recognize a need to stray away from fast fashion.
The following statistics, published by the UNEP and the Ellen MacArthur Foundation, will give you a glimpse on why we need to change our clothing and purchasing habits - 
Every year the fashion industry uses 93 billion cubic meters of water — enough to meet the consumption needs of five million people.

Around 20 % of wastewater worldwide comes from fabric dyeing and treatment.

Of the total fibre input used for clothing, 87 % is incinerated or disposed of in a landfill.

The fashion industry is responsible for 10 % of annual global carbon emissions, more than all international flights and maritime shipping combined. At this pace, the fashion industry's greenhouse gas emissions will surge more than 50 % by 2030.

Every year a half a million tons of plastic microfibers are dumped into the ocean, the equivalent of 50 billion plastic bottles. The danger? Microfibers cannot be extracted from the water and they can spread throughout the food chain.
The harms of fast fashion are far beyond the above. Waste disposal, landfill pollution, etc are some other key issues that the industry needs to tackle.
How can you be a part of the Slow Fashion Movement?
Slow Fashion encourages you to buy fewer garments, made of higher quality fabrics in a sustainable manner. Does that mean you need to stick to basics? Absolutely not. Slow Fashion asks you to think more about style than short term trends.
Implementing Slow Fashion can be intimidating, especially if you have a closet full of fast fashion pieces.  Sitting at home in a lockdown is probably the best time to look at our wardrobes and explore our clothing habits. The simple next step is not to get rid of it all. In fact, the next step is to segregate the pieces that you love and use them more and more. And for the pieces that you are ready to bid adieu to, ensure that they are in good condition and get ready to donate!
Now that you have a wardrobe full of pieces that you love, eventually you'll want more. This is where you need to be conscious and mindful of the choice you make. Shift away from companies that are only contributing to the carbon footprint of the environment and pull your focus towards ethical and sustainable brands instead.
Some Ethical and Sustainable Clothing Brands in India – 
Maasrani is a slow fashion brand that uses traditional handcrafting methods , made from natural biodegradable materials. Supporting her local communities, Maasrani  fights for ethical changes in the fashion industry. All fabrics are naturally dyed, and her unique garments are wearable by both men and women. Reaching out to an alternative market segment , this brand aims to provide Sustainable products for a wider segment by re imagining traditional textiles for a multicultural society.
Swiatlo means "light, to illuminate" in Polish, with bases in New Delhi and New York. Artful garments crafted mindfully from recycled fabrics and Indian artisan textiles such as blockprints and batik. Founded by former NYC fashion industry patternmaker and Parsons alumni Liz Hartman, Swiatlo pieces play with prints and colours around the body for a fit that feels sensual and effortless.
About Aulive: https://www.aulive.in/pages/know-your-leather
About Piñatex: https://www.youtube.com/watch?v=gCNuFqH4VCc
We at Doodlage, Upcycle factory waste into short limited edition collections. Recycle post-consumer waste and post cutting scraps into new fabrics to create season-less well-finished garments made for longevity. What we waste is segregated and converted into accessories, soft furnishing products and paper to make our packaging or stationery products. All our pieces and fabrics are made with ethical production units and our packaging is designed to be plastic-free.
Punah aims to provide a service for the consumer to give their outfit a second life and add a personal touch to them. At Punah:, every piece is restored, repaired and upcycled with love. We use several textile handicraft techniques like block print, dabu printing, hand embroidery, applique, patchwork, etc to revamp every outfit. We believe in zero waste production, which means all our waste is used to create trims, accessories and other products. It's our promise that all our outfits are one-of-a-kind, sustainable and ethically upcycled creations.
Shuffling suitcases is a community of conscious consumers working towards educating people and making sustainability a way of life. At Shuffling suitcases, we aim to provide handcrafted and locally sourced garments and accessories in order to revive the dying Indian arts and promote the existing ones. The brands we work with follow organic and cruelty free practices to run their business. Including relying on vegetable and plant based dyes to not using any animal products in our products. The brands we bring focus on contributing to the movement while keeping you fashionable. 
As a society moving towards sustainable habits, we have a long way to go. But with a few simple changes – you can do your part. Why not start with slow fashion?
Other Resources – 
Documentary – The True Cost - https://www.amazon.com/True-Cost-Stella-McCartney/dp/B07PNRV8FQ